Worrying reports today from a variety of sources to the effect that the Siding Spring Observatory, near Coonabarabran in Australia, is threatened by bushfires. I've visited the AAO (was the Anglo-Australian Observatory, now the Australian Astronomical Observatory, since the UK pulled out) a number of times to observe, and it is a wonderful place. The images coming from there over the last several hours, though, are very worrying.
All staff were evacuated from the mountain before the fires arrived, so working out what is happening there is a bit difficult. The webcams and data feeds from the site are helping, but there are now so many people looking at the webcam feeds that the fire service can't get on to see what's happening. So please don't look at them!
Ten years ago, almost to the day, Mount Stromlo Observatory near Canberra was destroyed by bushfires. Not only were historical telescopes burnt to the ground, so was an instrumentation laboratory where the Gemini NIFS, that was soon to be shipped to Hawaii, was also destroyed.
As a result of the Stromlo fire, actions were taken at Siding Spring to defend the observatory against fire. In the next few days we'll see whether they worked.
In the meantime, Australian astronomers like Brian Schmidt (@cosmicpinot) and Amanda Bauer (@astropixie) are providing updates on Twitter and on blogs. The latest images from the site are very scary.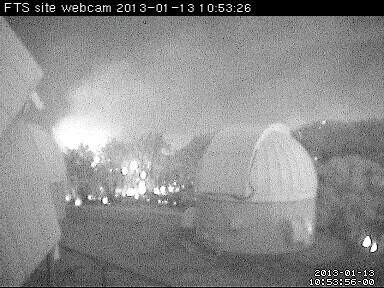 Some of the observatory buildings, at least, seem to be on fire.
As discussed by Brian Schmidt, this is a very 21st century event:
I have had what has to be a quintessential experience of the current era- watching a fire front pass through Siding Springs Observatory live, via the internet, using all of the remote observing information we have on various telescopes, while getting simultaneous news and views via twitter. In 2003, when MSO burned down, I got a single SMS from the Great Melbourne Telescope – which told me its temperature reading was out of range – 75C. The GMTs replacement, SkyMapper, only reached 65 today (although the AAT did make well over 100C), and while it is currently off-line – is clearly not a cinder like the GMT was a few minutes at the fire went through 9 years and 360 days ago. I fear a lot of damage has been done though, even if not the wholesale destruction we faced in 2003 at MSO. Tomorrow will tell, and then will come the long, slow process of recovery.
You can see an example of one of the temperature plots from Siding Spring here:
Some time back I was thinking that planning of future observatories should take into account the effects of climate change on cloud cover and precipitation. I hadn't thought that the effects of climate related disasters should also be considered.
My thoughts are with my Australian colleagues whose homes, work and jobs are at risk, and with the NSW fire services who are fighting the blaze.